Shoe Aid Project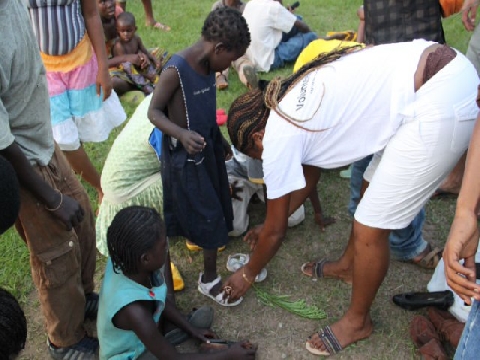 The Shoe Aid project is a donation and shoe recycling program where shoes are collected in well developed countries, transported to Africa and then freely distributed to children and families in Cameroon and neighbouring countries.
Our fundamental goal is to provide thousands of needy Cameroonians with a pair of shoes in order to enhance their daily activities and improve standards of living. Although footwear has been a part of life for thousands of generations, the sad reality is there are still many people in this day and age who go a lifetime without owning a single pair of shoes.
Without shoes, large numbers of people in deprived parts of Cameroon and other African countries are unable to perform trivial tasks, which the developed world tends to take for granted. Going to school, taking part in various sporting activities, visiting markets or church and working on farms all becomes somewhat of a difficult if not dangerous reality. Children often injure themselves by standing barefoot on broken bottles, nails or wild vegetation, often resulting in harmful bacterial and fungal infections. All this can be put to an end if you take action today and seek out an unwanted pair of clean shoes and donate them to this worthy project.
To find out more about Shoe Aid or learn how to donate your shoes, please email: info@shoeaid.org or visit www.shoeaid.org
Support this project
See more photos